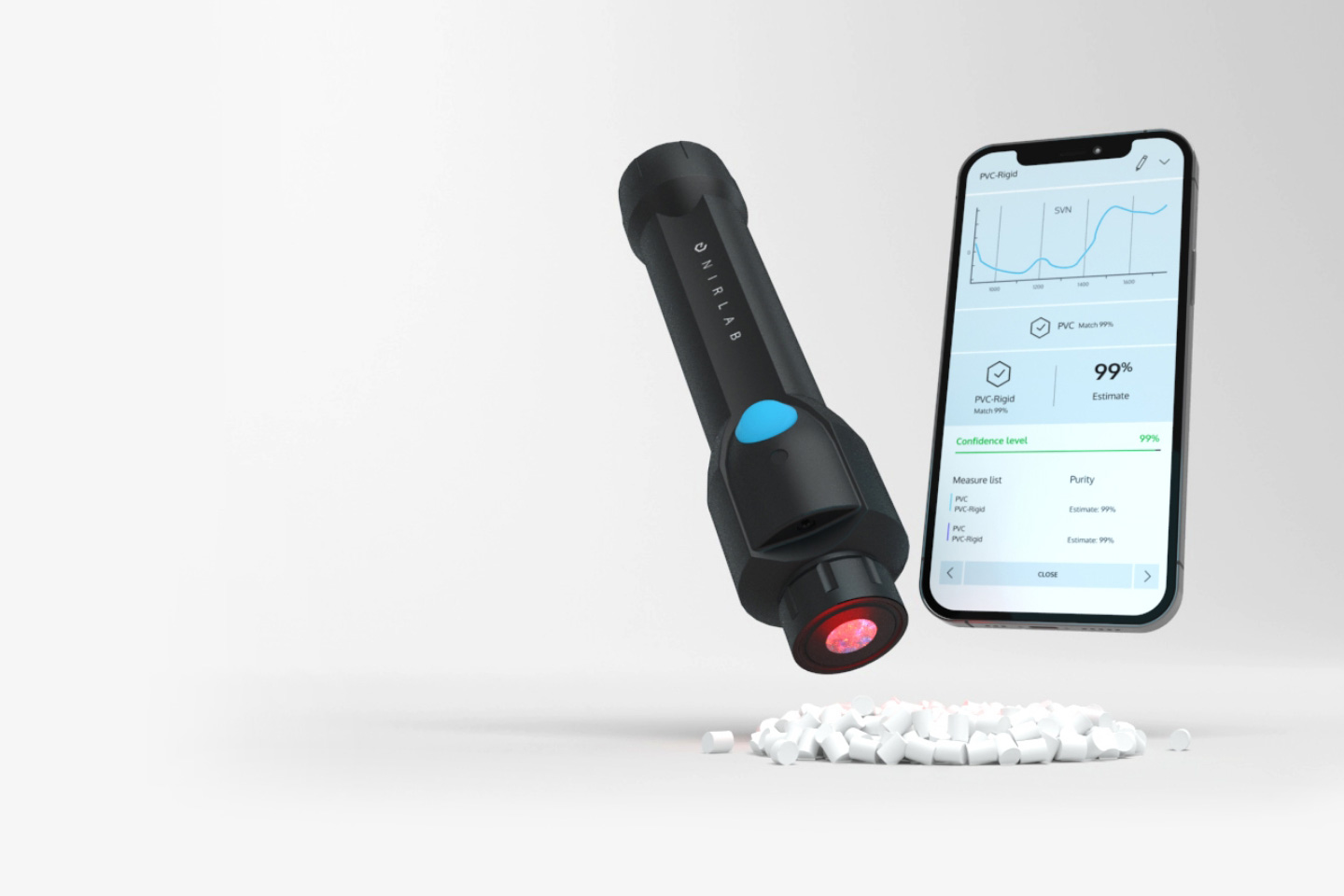 Mobile AI lab to analyze anything anywhere instantly.
NIRLAB gets your results in seconds, reliable and uncomplicated. Watch our tutorial on narcotics & drug analysis to convince yourself.
Swiss army knife for on-site anlysis NIRLIGHT
Our mobile NIRLIGHT will convince you with its cost-effectiveness, exceptional performance and ease of use.
NIRAPP
Our user-friendly and smart designed apps are available on the app stores and are displaying analysis results within 2 seconds. NIRWEB
Our powerful user and admin solutions allows you to manage users, devices and results, download reports and export data.
Customizable mobile NIR spectroscopy lab solution
High precision FIELDLAB is so far the only handheld and mobile spectroscopy solution which is proven to be ISO 17025 certifiable. By analyzing materials and substances with the FIELDLAB solution, precise real-world data is generated in real time.
Typical FIELDLAB applications
Qualitative and quantitative controls of raw materials and mixtures.
Controls of intermediate and final products.
Analysis outside the laboratory.
Changing locations (e.g. field service).
Need for results directly on site.
Let us build your own FIELDLAB!

NIRLAB is worldwide trusted by authorities and leading international corporations. We develop precise solutions for use cases in pharma, food, feed, safety and so on and on.
NIRLAB customizes the FIELDLAB solution to the specific needs of your individual case.
High precision NIRLIGHT
Identifying and quantifying a specific material at the touch of a button is possible with the NIRLIGHT near-infrared spectrometer:
an ultra-lightweight, wireless analyzer for instant quantitative and qualitative analysis on site and in the field. NIRLIGHT analyzes the spectrum of materials.
NIRLIGHT can be used in any industries (pharmaceutical, food, chemical, safety), whether the materials are solid or liquid, transparent or colored. The results can be displayed instantaneously on the NIRAPP and impress in precision.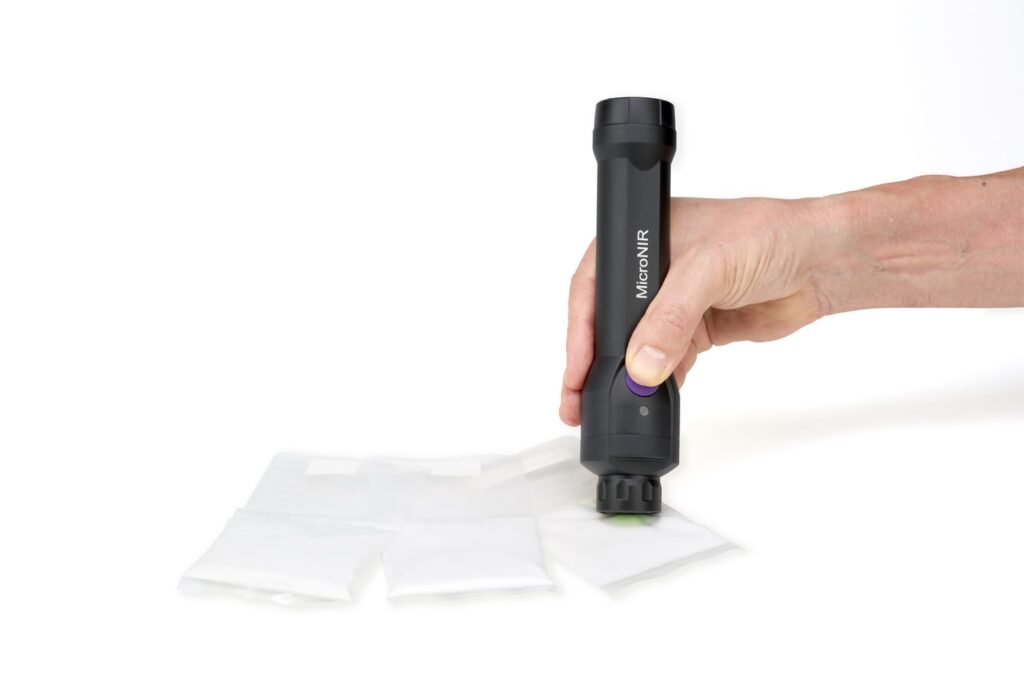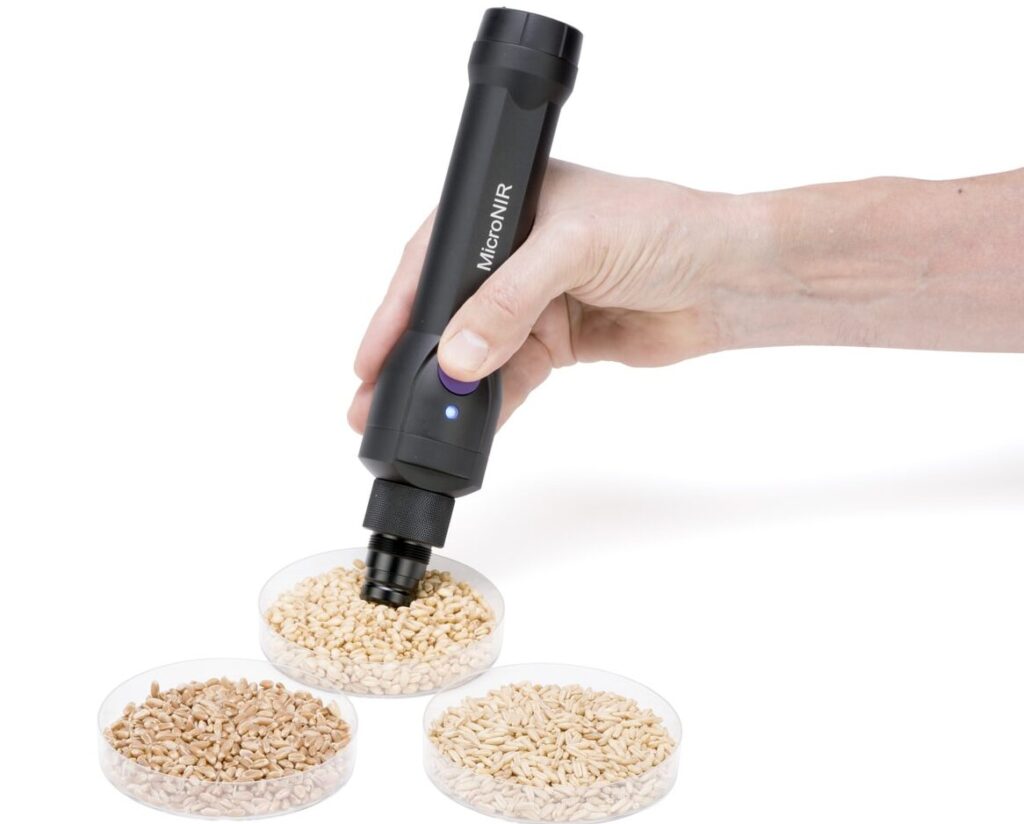 NIRLIGHT Advantages
Designed for use in the field as well as in the laboratory.
+ IP67 Rated
The device is 100% protected against solid objects like dust and protected against the effects of temporary immersion between 15 cm and 1 m.
+ Destruction-free Analysis
Little or no sample preparation is needed. No special training required.
+ No Maintenance
No special maintenance is required.
+ Long Battery Life
Fully charged device lasts minimum of 10 hours of continuous use.
+ Results Displayed Instantly
NIRLAB App for iOS and Android delivers results quickly.
Technical Data of NIRLIGHT
Measuring principle
Non-destructive analysis with NIR spectroscopy
Dispersive Element
Linear Variable Filter
Detector
128 pixel InGaAs photodiode array
Weight
250 g
Size
Diameter 47 mm, length 194 mm
Light source
2 tungsten NIR lamps with > 40.000 h lifetime
Spectral range
950 nm – 1,650 nm (= 10,526 cm-1 – 6060 cm-1)
Resolution
approx. 1.25 % (FWHM)
Dynamic Range
1.000 : 1 maximum
Signal to noise ratio (SNR)
1 : 23.000
Measuring distance
0 – 15 mm
Connectivity
Bluetooth
Power supply
Li-ion battery, > 10 h operating time
Data formats
Unsb, CSV and SPC
Operating temperature
– 20°C to + 40 °C (non-condensing)
Ruggedness
IP67 dust and splash protection, MIL-PRF-28800F Class 2
Standard accessories
Measuring attachment for powder and soft samples
Reflection standard
NIRAPP
It is highly customizable and user friendly and all the needed features and functions you want to find in a mobile Lab are already on board.
In this example, we have used the FIELDLAB solution for the qualification and quantification of illicit substances in various forms like powders, flowers, liquids, pills. Cuttingagents and precursors are also identified in the same analysis process.
The result in the NIRAPP shows:
1. The measured spectrum of questioned substance
2. Identification of the substance
3. Quantification of the substance
4. Cutting agent (if applicable)
5. Confidence level
Awards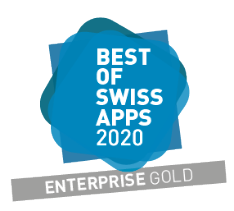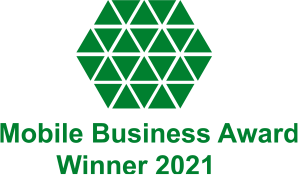 Science & Blog
Drogentest in 5 Sekunden: T3N berichtet

Das Schweizer Startup Nirlab Narcotics hat ein Gerät entwickelt, mit dem man Drogen in fünf Sekunden auf Substanz, Dosierung und Reinheit testen kann. Wie geht das?

Drogen in fünf Sekunden qualitativ und quantitativ analysieren

Um der großen Herausforderung der schnellen Erzielung zuverlässiger Ergebnisse bei der Analyse von Betäubungsmitteln begegnen zu können, liegt es nahe, sich neuer Technologien zu bedienen.

Providing illicit drugs results in five seconds using ultra-portable NIR technology

This article explores the development of an ultra-portable near-infrared detector connected to a mobile application, which allows analysis and display of results to end users within 5s. Additionally, strategies for deploying this technology within law enforcement organizations and forensic laboratories are discussed.
Are you inter­ested in a col­lab­ora­tion with us?
NIRLAB has already been integrated into various applications of large international organizations. Let's talk about your project. We will explore possibilities together and find a successful partnership model.